What are the solutions?
The launch of a Community Interest Company (CIC) might provide the ability to re-capitalise Wightlink and address the debt problem. A CIC serves to benefit the community and will have a very positive impact on the Isle of Wight not just now, but a lasting difference for generations to come. But it may be that there are other models, all bringing community ownership into the businesses, which are more appropriate.
What is a
CIC

?

A CIC is a limited company operating for the benefit of the community, for residents and businesses alike. The business would be acquired from the existing banks and ferry owners with the aim of re-focusing the business on its customers, so that over time, increasing service levels and reducing prices might become a reality. (View CIC Key Facts document)
---
Who would be the shareholders in the
CIC

?

A Community interest company can be owned by Islanders, by other stakeholders, by the IOW Council, indeed any legitimate Island interest groups. But its operating management will run it as a normal, for profit business. The difference is that the shareholders through its board of directors will ensure that wherever possible, community interests will be promoted and prioritised. Everything will be transparent – this is one of the legal requirements of a CIC which is of course regulated.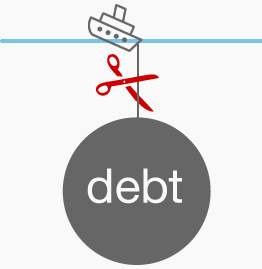 Why is change necessary?
Well, firstly it's all about debt – and servicing debt. The ferry companies, particularly Wightlink, need to recognise that their debts are unsustainable. We think that the investment and management model for the Ferry Companies is too short term and with such high debt levels, interest costs will always be an unacceptable burden for Islanders and tourists. We need a longer term, more secure business model, one which is more responsive and flexible. And one which Islanders truly believe has their interests at heart.
---
How much are Wightlink and Red Funnel in debt?
Experts in the financial industry estimate debt levels to be as much as 30% above current market norms at Red Funnel and a staggering 240% (2.4x) at Wightlink. Red Funnel is already providing a better service today at lower average prices because it has partially addressed its debt problem by writing down over £40 million of debts in 2009.