More tourists = more sailings - The Great IW Ferry Debate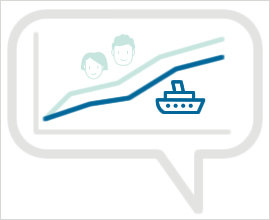 ISLE OF WIGHT COUNTY PRESS 31st January, 2014
by Martin Neville
Boosting tourism is the key to better ferry services, council watchdogs heard last week. All three ferry firms said it was critical the Island more to offer visitors.
Russel Kew, Wightlink chief executive, said the market for travel to and from the Island was flat, with one in three of its own sailings loss-making. He told the Cross Solent Services Scrutiny Task Group last Thursday: "Unless we can grow the market then nothing will significantly change about the ferry services we and our competitors provide."
He denied suggestions tourism was being stifled by the ferries, with market research showing price was not an issue with visitors. More needed to be done to bring redundant and decaying hotels and holiday villages back into use, with too many developments failing at the planning stage.
"If we can bring redundant property back into use we will grow tourism and ferry companies will be able to provide more sailings," he said. Mr Kew also called for more all-weather attractions to increase the Island's appeal to visitors throughout the year. "Tourism is the largest single market on the IW. I think that's something we could all focus on and that would make a massive difference very quickly," he said.
Kevin George, Red Funnel chief executive, said:" For us as a ferry operator to prosper we need more volume – traffic and people. By growing visitor travel to the IW we can do more to fund a comprehensive range of services."
Hovertravel's managing director, Neil Chapman said groups had cancelled trips because of negative stories about how costly it was to get to the Island.
The meeting was the second of two specially convened to probe services in the wake of concerns about the impact of service cuts and high fares."
A report on the committee's findings is due to be published in April.
Sign up to support this campaign and add your feedback, ideas and suggestions:
or